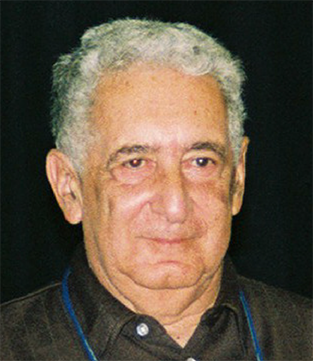 Louis Costa
Dr. Louis Costa died in Arizona on March 12, 2013 at the age of 80. Costa came to the Department of Psychology in 1978 from City College in New York where he had trained and had been chair of the Psychology Department.
That same year, he and Byron Rourke of the University of Windsor established the Journal of Clinical Neuropsychology that later was renamed the Journal of Clinical and Experimental Neuropsychology when it became the official journal of the International Neuropsychological Society. Also, in 1978, Costa became the executive secretary of the International Neuropsychological Society and worked with many other neuropsychologists to establish the Division of Clinical Neuropsychology (Division 40) in the American Psychological Association. He and Donald Stuss (Rotman Institute) took leadership in establishing a Section on Clinical Neuropsychology within the Canadian Psychological Association.
In 1980, Costa became the chair of the Department of Psychology at UVic and the following year became the associate dean of Social Sciences. At that time, the Faculty of Arts and Science was reorganized into a three-dean system, and he served as dean of Social Sciences for the balance of that decade.
During his engagement in administration at UVic, he promoted and facilitated considerable expansion of programs, faculty and other resources in the departments of the social sciences. For example, he was instrumental in the establishment of a program in Developmental Psychology and Aging (Lifespan program) within the Department of Psychology and the Centre on Aging, a university-wide, multidisciplinary centre designed to facilitate research and teaching within the field of aging. Through his time at UVic, he was a strong advocate for the development of a graduate training program in clinical psychology (Clinical Psychology Training Program).
Research and graduate research supervision were also important contributions Costa made to the Department of Psychology. While serving as chair and dean, he provided mentorship and guidance to many graduate students (MSC and PhD) and continued to contribute to their professional development long after "hooding" them at convocation.
In 1994, Costa, David Hultsch and Byron Rourke collaborated as the founding editors of Aging and Cognition: A Journal on Normal and Dysfunctional Development. Costa served as co-editor of this journal and the Journal of Clinical and Experimental Neuropsychology until 1996 when he retired from UVic. In 2008, Costa was honoured for his many foundational contributions to the International Neuropsychological Society at the 36th annual meeting held in Hawaii.
Following his retirement, Lou and his wife Brenda traveled extensively to various destinations in Europe and Asia. He is survived by Brenda and their son Andrew. The leadership Costa provided to influence UVic as it is today will be felt for many more years to come.