Welcome to INS-SLC

Thank you for visiting the page of the INS Student Liaison Committee! You may read about the history of SLC and about our student committee members on this page, or connect with the INS-SLC on their Facebook page.
The INS Student Liaison Committee also operates a google group especially for students. The google group is intended to provide a novel means of communication amongst neuropsychology trainees on professional development topics. The google group is a place where students can pose questions regarding training, provide peer consultation, and share ideas. The SLC will also post INS programming updates and upcoming deadlines.




History of the
INS-SLC

At the 38th Annual Meeting of INS in Acapulco in 2010, the Board or Governors organized a meeting to solicit comments from students and trainees about how to better serve associate members and increase their involvement. As a result of this meeting, the Society formed a student-run standing committee with specific goals to address student and trainee professional development needs, foster student contributions to neuropsychological science, and provide opportunities for student involvement and leadership within the INS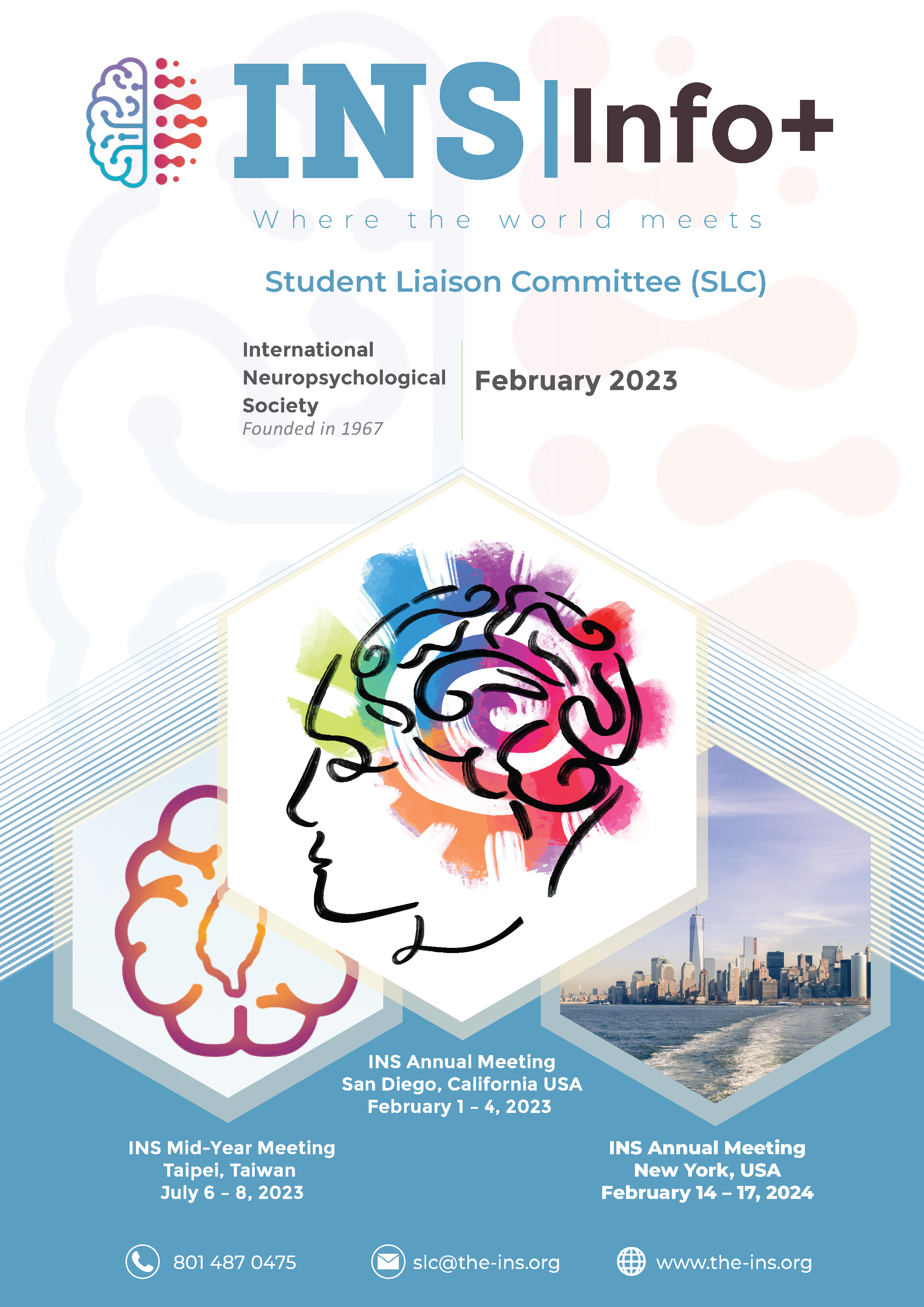 ---
Donations to the Student Activities Fund supports the Student Liaison Committee in fostering student leadership, creating student-oriented programs and events, and developing funds and services to support students in the field of neuropsychology.



INS-SLC Committee Members
NAME

ROLE
BODY TEXT

Taylor Jenkin

Co-Chair (2020-2023)
Taylor Jenkin is a Master of Psychology (Clinical Neuropsychology)/PhD candidate at The University of Melbourne. She completed her Bachelor of Science (Honours) at The University of Melbourne in 2017. Taylor's PhD project focuses on the implementation of family-centred service during rehabilitation for paediatric acquired brain injury. Her research is based at the Murdoch Children's Research Institute (MCRI), where she is supervised by Professor Vicki Anderson, Doctor Sarah Knight and Doctor Kate D'Cruz. Her clinical and research interests pertain to child neuropsychology, and she is passionate about learning how to better support children and adolescents with disabilities and their families. Taylor has held student leadership roles with the Australasian Society for the Study of Brain Impairment (ASSBI) and The University of Melbourne's Neuropsychology Students' Society (NSS). She can be reached over email at taylor.jenkin@mcri.edu.au or via twitter at @taylor_jenkin_.

Joshua Fox-Fuller

Co-Chair (2022-2024)
Josh Fox-Fuller is a doctoral candidate in the Clinical Psychology Program at Boston University under the co-mentorship of Dr. Alice Cronin-Golomb and Dr. Yakeel T. Quiroz (Massachusetts General Hospital). In the summer of 2022 Josh will begin his APA internship in the Adult/Geriatric Neuropsychology Track at the Emory University School of Medicine in Atlanta, Georgia. He is supported by an F31 NRSA from the National Institute on Aging to study the relationships between biological and cognitive markers of preclinical Alzheimer's disease in mutation carriers (and non-carrier family members) of an autosomal dominant Alzheimer's disease (ADAD) mutation whom are from Antioquia, Colombia. During the COVID-19 pandemic Josh has also worked on research projects related to teleneuropsychological assessment and remote computerized cognitive testing. Josh was previously the INS SLC Member-At-Large and is excited to continue serving the trainee members of the INS as co-chair of the SLC! He can be reached over email at jtfuller@bu.edu or via twitter at @joshfoxfuller.

Stacey Brothers

Annual Meeting Program Representative
Stacey Brothers is a second-year doctoral student in the Clinical Psychology (Neuropsychology) program at the University of Utah in Salt Lake City, Utah. Her advisor is Dr. Yana Suchy. She completed her bachelor's degree at the University of Kentucky in 2017. Following graduation, she worked at the Sanders-Brown Center on Aging in Lexington, KY. She was primarily involved with the Down Syndrome and Aging study, which longitudinally tracked cognition and neurological changes in individuals with Down Syndrome and their relation to the development of Alzheimer's disease. She is currently completing her master's thesis on the effects of pain, sleep, and expressive suppression on executive functioning and performance of instrumental activities of daily living. She is interested in identifying factors relevant to the assessment of executive functioning, as well as work with forensic populations.

Li Yu Hsuan

Mid-Year Meeting Program Representative
Yu Hsuan, Li is completing her Master's degree of Clinical Psychology at National Chung Cheng University in Taiwan. She graduated with a bachelor degree in Psychology from National Chung Cheng University. Yu Hsuan's research thesis is about prospective memory mechanism, mind-wandering, and their relationship under the supervision of Dr. Yen-Hsuan Hsu. She acted as an Administrative Officer to assist Dr. Yen-Hsuan Hsu in research projects. Also, she worked as a Teaching Assistant for Experimental Cognitive Psychology and Abnormal Psychology courses. She is a Clinical Psychologist Intern at National Taiwan University Hospital Hsin-Chu Branch, in one-year Clinical Psychology Internship now. Yu Hsuan is very interested in investigating Clinical Neuropsychology, Prospective Memory, and Mind Wandering.

Fareshte Erani

Communications & Outreach Representative
Fareshte is a second year doctoral student in the clinical psychology program at Drexel University. Originally from Anaheim, CA, Fareshte received her Bachelor's degree in Psychology from UC Irvine. Prior to Drexel, she worked with an acute stroke population, utilizing EEG to study recovery and its feasibility in the emergency room. Her current research is focused in adult neuropsychology and her research interests include utilizing neuroimaging and neuromodulation to study brain injury relationships with neural function, structure, and behavior. She is interested in using these techniques to guide the development of targeted symptom treatments for neural diseases.

Maximiliano Folmer

Member at Large
Maximiliano is completing his first year in the Master of Science in Cognitive Neuroscience and Clinical Neuropsychology at the University of Padua, Italy. He completed his undergraduate studies as a Licensed Psychologist at the Universidad Católica de Córdoba (UCC), Argentina in 2020. His research thesis focused on the reliability analysis of the Multicultural Neuropsychological Scale (MUNS) supervised by Dr. Luis Alberto Fernández. During his undergraduate studies, he worked as a research assistant collaborating in the development of the MUNS and as a neuropsychology intern at Cortex Neuroterapias, Dr. Fernández's neuropsychology private center. After graduating, he was hired as a graduate research assistant and as head of practical assignments for the neuropsychology course at UCC. Also, he worked as a licensed psychologist at the Instituto González Palau, a neuropsychology center associated with a private hospital, designing and leading rehabilitation programs for patients with diverse diagnoses. Shortly after, he got admitted to the top three international students to pursue his graduate studies at the University of Padua. Maximiliano's interests span from the development of neuropsychological assessment tools to researching brain-behavior relationships in emerging fields of new technologies. Maximiliano previously served as a Global Engagement Representative of the SLC and is excited to continue his involvement as Member at Large!

Amber Ayton

Global Engagement Representative
Amber Ayton is a PhD (Clinical Neuropsychology) candidate at Monash University in Melbourne, Australia. She attained a Bachelor of Psychological Science (Honours) from the University of Queensland in 2021. Amber's honours thesis was based at the Centre for Children's Health Research (Queensland Children's Health) and focused on enhancing memory consolidation following paediatric traumatic brain injury (TBI) using non-invasive brain stimulation. Amber is now completing her PhD thesis in geriatric TBI, where she is investigating the impact of older age on outcomes following moderate-severe brain injury, including neuropathological (MRI), psychosocial, emotional, and cognitive outcomes in the chronic period post-injury. Amber's research is supervised by Dr Amelia Hicks, Dr Gershon Spitz, and Professor Jennie Ponsford at the Monash-Epworth Rehabilitation Research Centre (MERRC). Amber holds a student representative position at Monash University, and works at MERRC on additional research projects related to longitudinal outcomes and interventions in TBI.

Tahlia Bragg

Incoming Annual Meeting Representative
Tahlia Bragg (she/ella) is a Clinical Neuropsychology Postdoctoral Associate at Boston University Chobanian & Avedesian School of Medicine in the Chronic Traumatic Encephalopathy (CTE) Center. She completed her doctorate in Clinical Psychology at Fielding Graduate University in 2022. Most recently, she was a Psychology Intern at The Center for Multicultural Training in Psychology (CMTP) at Boston University Chobanian & Avedisian School of Medicine & Boston Medical Center where her clinical foci were providing behavioral and psychotherapeutic interventions in systems-based care for children and families. Her research interests in Clinical Neuropsychology emphasize abolishing racial disparities in neuropsychology that impact Black-identified communities. In addition to her research responsibilities, Dr. Bragg is also providing clinical care in the Memory & Aging Disorder Clinic at Boston Medical Center.

Kendra Pizzonia

Incoming Communications and Outreach Representative
Kendra Pizzonia is a fourth-year PhD student in Clinical Psychology completing the elective neuropsychology major area of study at Ohio University in Athens, Ohio, USA under the mentorship of Dr. Julie Suhr. She graduated in 2015 with her bachelor's degree at the State University of New York (SUNY) at Brockport and completed a master's degree in psychology at Villanova University in 2019. Kendra's clinical and research experience has prioritized training in adult neuropsychology. Her research interests broadly include studying normal cognitive aging in community-dwelling adults and pathological aging such as Alzheimer's disease. For her dissertation, Kendra plans to explore relationships between neuropsychiatric symptoms and cognition in an older adult sample.