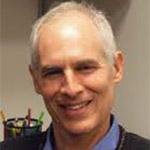 Larry Seidman
Dr. Larry Seidman, an eminent neuropsychologist, died suddenly on September 7, 2017. He was 67. Dr. Seidman was on the faculty of Harvard Medical School for over 30 years, including positions in the Harvard Department of Psychiatry (Professor, Psychology) and Massachusetts Mental Center Public Psychiatry Division at Beth Israel Deaconess (Vice Chair, Research).
Dr. Seidman was also the Director of the Commonwealth Research Center, MA Department of Mental Health's center of excellence in clinical neuroscience and psychopharmacological research. Dr. Seidman was engaged in groundbreaking work bridging neuropsychiatry, neuropsychology, neuroscience, and major mental illness. His work focused on identifying biomarkers for prediction of psychosis and understanding the risk factors for psychosis in child mental health, developing novel treatment and preventative interventions for early phases of psychosis, and strategies for improving function in high risk and early psychosis with neurocognitive impairment.
Dr. Siedman was known as an empathic and generous person and a highly sought-after teacher and mentor. He was always generous to all and recently received a lifetime achievement award from Harvard Medical School for his exceptional mentoring. He leaves behind his wife, Ilene, two children and two grandchildren.