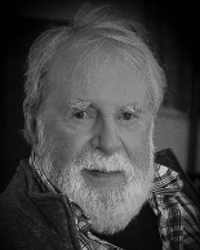 James C. Reed
James C. Reed, Ph.D., 91, of Wayland, died peacefully and comfortably at his home on Sunday, September 25, 2016, after a brief illness, having seemingly been in good health two weeks earlier. He was the devoted husband for 65 years of the late Mary C. Reed, who died on July 19, 2011, and the loving father of Patrick C. Reed of New York City.
James Carey Reed was born in Pittsburgh, Pennsylvania, on October 30, 1924, the son of H.B. Reed, a college psychology professor, and Elma Carey Reed. He grew up in Hays, Kansas. He served in the Army Air Corps from 1943 to 1945 in North Africa and Italy. He married Mary in 1945. After completing a bachelor's degree at Fort Hays Kansas State College in 1947 and a master's degree at the University of Iowa in 1949, he began a long professional career in psychology. In 1958, Dr. Reed received a Ph.D. degree from the University of Chicago, where his father had received his own Ph.D. Dr. Reed was awarded a Fulbright Scholarship to conduct research at the Indian Statistical Institute in Calcutta in 1959-1960. He later became a Diplomate of the American Board of Clinical Neuropsychology and the American Board of Professional Psychology.
Dr. Reed specialized in clinical neuropsychology starting in the early 1960s. His work involved interpreting sophisticated neuropsychological tests to evaluate patients with brain impairments and injuries. He is regarded as one of the founders of child neuropsychology, although he also worked extensively with adult patients, including the elderly. He was also instrumental in providing rigorous statistical foundations for neuropsychological testing. During his career he held faculty positions at a number of universities, including Wayne State University, Indiana University Medical School, the New England Medical Center and Tufts University Medical School, and Harvard University Graduate School of Education. From 1985 until his retirement in 2009, he was Director of Psychology in the Department of Psychiatry at South Coast Hospital System in New Bedford. He was author of a number of scholarly articles and papers, served on the board of editors of several professional journals, and was an active member of the American Psychological Association and the International Neuropsychological Society.
Dr. Reed had diverse interests outside his professional life. He shared an interest in birdwatching with his wife. He became a Life Master in bridge and enjoyed poetry, tomato gardening, and fishing. He celebrated his 60th birthday by running a marathon in under 4 hours and 10 minutes. He enjoyed international travel, making numerous trips abroad with his family.
Dr. Reed lived in Wayland since 1968.
In addition to his son, he is survived by his brother, Homer B.C. Reed, Jr., of Hopkinton, who is also a Ph.D. psychologist specializing in clinical neuropsychology, with the two brothers often working together. He is also survived by numerous nieces and nephews to whom he was very close. He was predeceased by four sisters, Mary Elizabeth, Kathryn, Margaret, and Anne. He and his family are enormously grateful to Concepta McNamara, who managed his home healthcare for the five years after he broke his hip and became partly disabled in 2011, and to Isabel Morey, his caregiver for the last six months.