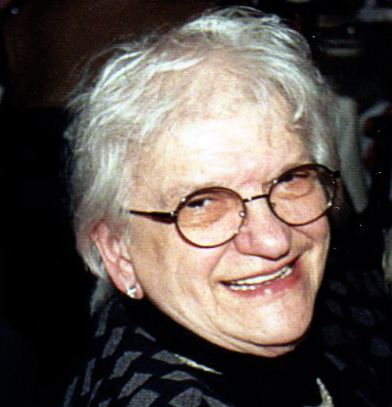 Edith Kaplan
Edith Kaplan (1924-2009), known as the "Mother of Neuropsychology", died September 3 in Lexington, MA. Born in Brooklyn, NY, she attended Brooklyn College, where she studied with and was strongly influenced by Heinz Werner. After receiving her B.A. in 1949, she followed Werner to Clark University in Worcester, MA, and studied the development of word meanings in children. She married Bernard Kaplan; their son, Michael, was born in 1952.
After obtaining her M.A. in Psychology the same year, she stayed on to work on her Ph.D., but separated from her husband and left Worcester for Boston in 1956. There, she parlayed a six-month position at the Boston VA Medical Center with Harold Goodglass studying gesture in aphasia, into a dissertation on the development of gesture in children, and for the next 29 years she remained at the B.V.A.M.C, on the renowned Aphasia Unit, 7D. Later, she continued as Professor at Boston University, Suffolk University, Clark University, Tewksbury Hospital, and Baycrest Hospital in Toronto.
As Director of Clinical Neuropsychology Services at the BVAMC, she trained and mentored over 50 interns and foreign visitors, many of whom have become leaders in the field. She worked with a group of gifted interdisciplinary colleagues, in what many have come to regard as the golden years of neuropsychology. Her keen clinical observations led to ground-breaking work identifying diagnostically significant components of behavior, including the first published report (with Norman Geschwind in 1962) of a human cerebral disconnection syndrome (reprinted as the first in a series of landmark papers in Neurology in 1998).
She became famous for her work in aphasia, apraxia, learning and memory disorders, and other syndromes, co-authoring such classic works as The Assessment of Aphasia and Related Disorders, the Boston Diagnostic Aphasia Examination and the Boston Naming Test. She contributed to the development of the widely used California Verbal Learning Test and the Delis-Kaplan Executive Function System, among other tests. Her analyses of clock drawings and of complex figures are famous. Her approach, which later came to be known as the Boston Process Approach, focuses on capturing which of several possible cognitive processes underlies a behavior (process), rather than simply on whether the final answer is right or wrong (achievement). She was instrumental, with support from the Psychological Corporation, in introducing significant modifications to the Wechsler tests for intelligence and memory, and the development of other instruments followed.
Edith Kaplan was President of the International Neuropsychological Society, the National Academy of Neuropsychology, the Academy of Aphasia, and the American Psychological Association's Division 40. She received Distinguished Neuropsychologist and Career Achievement Awards from the International Neuropsychological Society, National Academy of Neuropsychology, American Psychological Association, and the Massachusetts Neuropsychological Society. Two Edith Kaplan Awards annually recognize contributions to neuropsychological assessment.
Edith's immense generosity, her zest and enthusiasm for life, her passion for sharing and teaching, her marvelous sense of humor and outrageous jokes, her unconventional style and her brilliance will be missed by her son Michael, her granddaughter Rachel, and numerous colleagues, friends, and students.