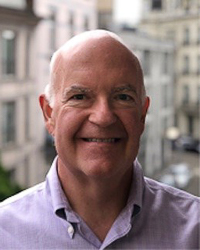 We are delighted to announce that the new Editor in Chief of our journal, the Journal of the International Neuropsychological Society, will be Dr. John Woodard. Dr. Woodard will take over from Dr. Steve Rao who has done a fantastic job at the helm of JINS over the last 10 years. We are very grateful for Dr. Rao's skillful leadership of our journal over the last decade and are very happy that JINS will be in safe hands with Dr. Woodard in charge.
Dr Woodard is Professor of Psychology at Wayne State University, Detroit and a Visiting Professor at the Institute of Neuroscience, Université Catholique de Louvain, Brussels, Belgium. He has research interests and expertise in preclinical detection of Alzheimer's disease, ageing, sports concussion and mild traumatic brain injury, longitudinal data analysis, as well as statistical and methodological aspects of neuropsychological test construction. He is also actively researching neuropsychological applications of Relational Frame Theory and Acceptance and Commitment Therapy. Dr Woodard has been an Associate Editor of JINS for ten years and so is very well placed to take on the role of Editor in Chief.
We would like to offer huge thanks to Dr. Gerry Taylor, Chair of the JINS Editor in Chief Search Committee, and all the members of the Search Committee: Dr. Vicki Anderson, Dr. Sallie Baxendale (Chair of INS Publications Committee), Dr. Greg Brown, Dr. Tatia Lee, and Dr. Daniel Mograbi. We had a very strong field of applicants with all those interviewed being of exceptionally high quality. We are very grateful to the search committee for their diligence and dedication throughout the search process.
Under Dr. Woodard's leadership, JINS will continue to disseminate the highest quality of neuropsychological research to improve our science and practice, and we wish Dr. Woodard well as he takes on this important role.
Dr. Jonathan Evans
President, International Neuropsychological Society