Hotel Bookings will open along with registration in early October and is available to all registered meeting attendees.
Experience the vibrant energy of Manhattan at the newly renovated New York Marriott Marquis, located in the heart of Times Square. Our hotel is an iconic fixture of the city and offers easy access to some of the most exciting attractions, including the world-famous Theater District, Rockefeller Center, and Radio City Music Hall. Indulge in our redesigned restaurants, featuring bold New York flavors and innovative menus, including Le Petit Chef on Broadway, created by the world-famous artists of Skullmapping and presented by TableMation Studios. Unwind in our spacious accommodations, equipped with modern amenities and offering stunning views of Broadway, Times Square, and the iconic Manhattan skyline.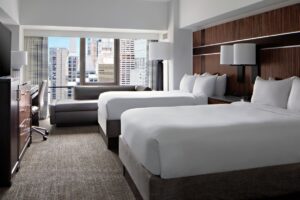 DISCOUNTED GUEST ROOM RATES: Early October 2023 until January 22, 2024
Single Occupancy: $269.00
Double Occupancy: $269.00
We'll also have a special room rate for students
We urge attendees to book early, as rooms are in very short supply and the conference room rate is only available until supplies last. Must register for meeting in order to qualify. You will receive the link and access code in your registration confirmation email.
Parking at the Marriott Marquis New York : Valet parking, fee: $95 USD daily or Valet parking only in off-site garages-24 hour rate with In/Out privileges prohibited, Car $70 USD, SUV $80 USD, Oversized $95 USD
Nearest Subway/Metro Stop: 49th Street Station, 50th Street Station and Times Square Station.
Please beware of any companies that may contact you claiming to be affiliated with INS and offering discounted reservations. Do not give out your credit card information to these vendors. Please notify INS or the Marriott if anyone approaches you claiming to be working on behalf of the INS or the Marriott, and only use the authorized link on the INS meeting page or call the Marriott directly to book your reservation.

Address: 1535 Broadway,
New York, New York, USA, 10036