Telehealth Resources During COVID-19
Dear INS Colleagues, As a global organization we are acutely aware of the challenges that INS members, and their communities, face in the context of COVID-19.   Our world has changed. We must do our best to learn from these adverse events and support our patients, trainees, and colleagues who are struggling with health and financial vulnerabilities.  We write now to assure you that INS remains committed to its scientific and educational mission.  In the near future we intend to offer a free-of-charge webinar focused on the science and practical aspects of telehealth. We also want to alert you to the fact that we are having ongoing conversations about the mid-year meeting in Vienna. We have not yet cancelled the meeting but we are considering a number of modifications to the current format.  We will update you as soon as we have made final decisions. We remain proud of our profession and find it heartwarming that our community has come together to support one another in this time of uncertainty.  We wish health and safety to you and your loved ones.
Thursday, April 23, 2020
ENCORE LIVE Webinar PRESENTATION

On behalf of the TeleNeuropsychology Subcommittee of the Sports Neuropsychology Action and Professional Practice (SNAPP) Committee, the Sports Neuropsychology Executive Board, and the Association of State and Provincial Psychology Boards we invite you to attend this free webinar!
1 hour of CE credit will be available for SNS members only
Thursday, April 23, 4-5pm Eastern Time
TELEPSYCHOLOGY and PSYPACT Understanding Interstate Practice during the COVID-19 Crisis and into the Future April 23, 2020
---
Thursday, April 16-17, 2020
Q&A Forum for Neuropsychology Interns during the COVID-19 Pandemic

---
Teleneuropsychology (TeleNP) in Response to COVID-19: Practical Guidelines to Balancing Validity Concerns with Clinical Need
VIEW THE WEBINAR REPLAY HERE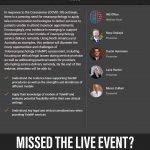 Updates from Around the World
The INS Global Engagement Committee met via Zoom on 27th May to update each other on the current global situation regarding the impact of COVID-19 on neuropsychology practice and research. Some members who could not attend the meeting provided summaries of the situation in their countries. Despite the challenge of managing the time-zone issue, we managed to have attendees from North America, South America, Europe, India, SE Asia and Australia on the call! The gold star for dedication went to Omar Alhassoon who got up at 4am to join from California!
Overall, we see that situation remains challenging right around the world. But there are glimmers of hope from those countries that have passed the peak of COVID-19 infections, or managed to control it well, with practice beginning to return to some form of normality. However, in many countries it is going to be a long time before things are back to how they were just a few months ago.
Each country listed below has been updated with the most current news reported by the representative(s) of each area.
Ending on a positive, this period has clearly stimulated a great deal of creative thinking as neuropsychologists have adapted to the interesting challenges they have faced. In particular, the focus on remote assessment and tele-neuropsychology clearly has the potential to be useful post-COVID, with many people suggesting that this can make neuropsychology more accessible for those that previously were excluded for reasons such as distance, mobility or mental health difficulties. On the other hand we also have to ensure that neuropsychology remains accessible to those without access to these technologies.
Neuropsychologist also have an important role in supporting patients who have emerged from a COVID-19 illness with cognitive impairment and psychological difficulties. Another challenge for us to rise to!
Jon Evans
June 5th 2020.
April 8, 2020
COVID-19 is affecting everyone, right across the world. It is not surprising, then, that practice, research, and teaching of neuropsychology have been substantially disrupted. The INS Global Engagement Committee (GEC) is concerned with supporting development of neuropsychology around the world, and particularly in countries where neuropsychology is less well developed.  Members of the GEC from across the world have been discussing how practice, research and teaching are being affected, the issues that members are dealing with, and some of the creative solutions being implemented. Here are a few examples from GEC members that reflect a little of what is happening around the world.
In GEC discussions, Dr. Alberto Fernandez (Argentina), Dr. Alia Ammar (United Arab Emirates), Professor Skye McDonald (Australia), Dr. Natalia Ojeda del Pozo (Spain), Dr. Aparna Dutt (India), Dr. Lingani Mbakile-Mahlanz (Botswana), Dr. Leandro Malloy-Diniz (Brazil), Dr Taina Nybo (Finland) and Dr. Elizabeth Kera (US and Croatia) all mentioned that the question of how best to use teleneuropsychology is being explored in their countries. Clearly this is a topic that is exercising the whole neuropsychology community just now.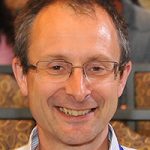 Watch the brief video by Dr. Evans by clicking
here
or on the play icon above.
June 5, 2020
In Argentina, Alberto Fernandez reported that his research remains halted as it involves paper and pencil tests that would take too long to adapt to a computerized format. Like many others he is working on the analysis of data and publications but not collecting data right now. This situation is replicated across the country. With regard to both clinical and research work Alberto noted that even when restrictions on face to face contact lift, he would be concerned for his patients who are often either elderly or children with disabilities, so he continues to see people only online.
June 5, 2020
Skye Macdonald noted that in Australia all face to face clinical work and research has ceased. The only ongoing research is online, where that is relevant. So Skye's PhD students are reverting to literature based research (meta-analyses, reviews etc) to tide them over.   Australia has been very active in tele-neuropsychology from well-before COVID-19, primarily focused on being able to work with people in remote rural environments. But the research and experience of several Australian colleagues has been very important for neuropsychologists around the world who have been trying to adapt their practice to using telehealth approaches. Skye also mentioned that she has one PhD student in Vietnam who went there specifically to collect data at the beginning of the year.  That was closed down for a month or so but restrictions have lifted there and she is very busy with face-to-face data collection. So it seems Vietnam is open for (research) business, for now at least.
April 8, 2020
In addition to remote neuropsychological assessment, people are trying to work out how to provide neuropsychological rehabilitation remotely. In this area the work from colleagues in Australia is particularly important. Rene Stolwyk, Dana Wong, Jennie Ponsford and their colleagues in Melbourne have been using telehealth approaches to cognitive rehabilitation. The Australian Centre for Research Excellence in Aphasia, at La Trobe University in Melbourne has developed a website aimed at helping people with aphasia during COVID-19. Also, Professor Skye McDonald's team at the University of New South Wales has developed set of resources to help families coping with a family member with challenging behaviour. This is a set of seven modules that families can work through and is freely available from Professor McDonald's webpages.
June 5, 2020
From Botswana Lingani Mbakile-Mahlanza noted that all research has been halted and none of the face to face research was converted to online.  Research activities have been affected by the lockdown orders which took place from the 23rd of March 2020. IRBs are also closed until the end of lockdown. They are currently in the extension period of the lockdown, which is done in phases and these phases are gradually lifting the strict regulations weekly. If it goes well they anticipate being back into work by early June but this is dependent on number of cases and the national address by the President. So research activities will pick back up at the end of lockdown however they will remain required to maintain social distancing and hand hygiene.
June 5, 2020
Lucia Braga reported from Brazil, where the general situation in relation to management of COVID-19 is quite dire. Lucia noted that there is no enforcement of a systematic governmental protocol in place, with the government apparently encouraging people to go to work and having deemed gyms and salons essential businesses.  The number of cases is rising daily and the available resources are plummeting.  Lucia works within the SARAH network of rehabilitation hospitals. They have suspended research as staff are dedicated almost exclusively to patient care across the nine SARAH centers.  Anticipating the rapid spread of the virus in this country, they set up an extensive telemedicine infrastructure to continue seeing patients who are unable to come to the physical facilities (or have high risk factors for contracting Covid) and have seen around 50,000 patients to date.  Lucia noted that at first, they were unsure whether this delivery modality for medical care would be successful or would meet the needs of their patients, but they were surprised at how effective and efficient it is, and how satisfied the patients are.  To encourage other facilities around the world to adopt this service model at this time, they carried out a survey of their telemedicine results which is submitted for publication. Lucia commented that,  "it's a tough time to be in healthcare, anywhere in the world, and most scary to have to be a patient needing medical assistance.  But we are all doing our part and hoping to ride out this storm in the best possible way".
April 8, 2020
In Brazil, Dr. Leandro Malloy-Diniz has worked with interdisciplinary colleagues to produce a paper in the Brazilian Journal of Psychiatry on the wider psychological and mental health issues associated with COVID-19, discussing the public health challenges of changing, or nudging, the behaviour of populations of people who need to distance themselves from each other; the impact of social isolation on the general population and particularly those with existing mental health difficulties; and the importance of supporting the mental health of health workers. The article is freely available online here
June 5, 2020
In China, Raymond Chan noted that most research remains affected and on hold. Limited clinical services are beginning to re-start gradually.
April 8, 2020
In Finland, Dr. Taina Nybo reported that at Helsinki University Hospital, which is the largest hospital in Finland and largest neuropsychology unit (about 40 neuropsychologists) they have been working to improve remote contacts with patients.  All rehabilitation patients are offered a remote contact and the team is developing digital neuropsychological rehabilitation pathways for people with mild-moderate acquired brain injury.
June 5, 2020
Another place in the world where things remain very challenging is India. Aparna Dutt reported that India is now in the fourth phase of the lockdown for another 14 days. Despite the rise in the total number of active COVID cases and deaths in the country, several states have announced easing of restrictions in this phase. Clinical work remains impossible as she cannot see patients face to face and video-based consultations are not feasible with most of her dementia assessment patients. It remains uncertain when they will be able to resume face-to-face data collection. Aparna noted that, at a personal level she is worried as to how she will continue her research projects this year which involve field work and data collection from illiterate healthy participants, mostly residing in the slums in Kolkata. She cannot risk the safety of her team members by sending them to the slums where social distancing is very difficult. She is not sure whether there will be any restrictions from the Indian government on carrying out research activities in the slums in the cities, but will be discussing this issue with their hospital ethics committee. Otherwise, it seems the situation in India with respect to neuropsychological research is similar to other countries. On the positive side, Aparna noted that the lockdown has provided the opportunity for some time to catch up on some discussions with students, international collaborators, data analysis and writing papers!
April 8, 2020
Those working in private practice and in healthcare systems that involve remuneration per patient contact are suffering a dramatic loss of income. This is happening in places where incomes are already modest and psychologists are often supporting both themselves and interns/assistants. For example, Dr. Aparna Dutt, working in Kolkata, India notes that patient in this country typically pay for each neuropsychology consultation session, but with clinics cancelled there is no income. In addition, many patients are also experiencing loss of income as a result of the wider economic impact of COVID-19, so may not prioritize a neuropsychological evaluation. Many psychologists around the world similarly depend on individual consultations for their income, and as consultations have stopped, income is zero.
June 5, 2020
Natalia Ojeda del Pozo, from Spain reported that research with patients has been stopped for eight consecutive weeks, but they are now in the process of being able to start with face to face individual assessments, so already planning how to proceed and catch up. Interventions were cancelled and in terms of group interventions, they will be able to go back to them from June 8th on, as long as they can maintain 2 metres distance between each other and use masks and gels, disinfection of rooms, including chairs and door handles etc. Each patient is encouraged to bring their own pen/pencil.
Natalia is also focussing on data analysis and papers during the eight week lockdown period, and now in the process of getting back to activity. However, they have also been alerted that it is not possible to rule out the possibility of new restrictions in the future depending on the evolution of infections and if new outbreaks are identified.  Nevertheless, at the end of last week they started phoning patients to ask them if they would be willing to maintain their participation. In the case of cognitive remediation trials they are thinking of implementing some booster sessions to compensate for the interrupted weeks. However, many participants have already communicated that they prefer not to as people are still scared and very cautious about going out, in particular in relation to going to health sites.
April 8, 2020
Dr. Natalia Ojeda Del Pozo is in the Basque region of Spain. At the time of writing Spain has 80,000 people infected and has suffered 6,500 deaths, in a country of 45 million people, and of course that will only increase tomorrow. Spain has a good quality publically funded health system, but the intensive care units are overwhelmed and lacking in critical personal protective equipment (PPE). Neuropsychological assessment and treatment in-person are not happening, and the priority has shifted to online psychological therapy. Natalia reported that the situation is frightening and stressful, but a positive part of the situation is that people are developing a greater sense of community, and networking more. As in many other countries, health professionals are honored at 8pm everyday by people applauding from their windows for two to three minutes. People are also getting together and organizing to support each other, and being very creative in finding solutions to problems. Natalia mentioned a service being provided by the Professional Association of Psychology in Bizkaia. Up to 86 clinical psychologists have been recruited. These are mainly psychologists whose only income comes from private practice. They are providing online support to anyone who contacts the association. The service is free of charge to users and the professionals are being paid by the Society which means that as well as a service to the community it is also a way to help professionals to guarantee a minimum income during this crisis period.
The Neuropsychological Society in Madrid has created this webpage to provide advice to patients and families and some companies are offering their online cognitive rehabilitation services free of charge, so patients can access from home. Patient associations are organising to offer recommendations, relevant manuals and more informal tips. For example, children diagnosed with Autism and other neurodevelopmental disorders are wearing a big blue ribbon or blue T shirt so that they can go outside their houses and walk for a while to relieve distress and help the children deal with the isolation.
June 5, 2020
The situation remains challenging around the world, but there are positive signs in some parts of the world, especially in those countries that dealt well with the pandemic.  For example, Nai-Wen Guo reported from Taiwan that they have not suffered badly during the pandemic as actions to prevent the spread of the virus were taken as early as the beginning of 2020, and at the time of our GEC meeting there had not been any new cases for almost 40 days. Prof Guo, who is President of Association of Taiwan Clinical Psychologists and also President of the Taiwan Association of Neuropsychological Developmental and Mental Rehabilitation, had been leading a tele-peer-supervision program for members and has been invited to publish an article in the Journal of Medical Quality in Taiwan to share her experience on supporting brain-based wellbeing during the pandemic
For most neuropsychologists around the world research remains mostly on hold. In relation to clinical practice, things are variable. In some places clinical practice is limited to telephone or video consultations. Some people have adopted 'tele-neuropsychology' practice. Others are seeing patients using personal protective equipment (PPE). For others clinical practice is simply not possible.
April 8, 2020
In Taiwan, Professor Nai Wen Guo, the President of Association of Taiwan Clinical Psychologists and also the President of the Taiwan Association of Neuropsychological Developmental and Mental Rehabilitation, is working with the government's Central Epidemic Command Center (CECC). Prof Guo is working to promote mental health awareness and the importance of maintaining emotional health and well-being during the COVID 19 crisis. She and her team have created a set of brochures titled "Go through the storm of COVID-19" for children and older adults in four language versions including Chinese, English, Indonesian and Vietnamese. The resources are available nationwide on the
wellbeing resources platform
. In addition, they are distributing the printed brochure to all government units.
June 5, 2020
Alia Ammar reported that in the UAE things are slowly normalizing but many clinicians are working from home. In terms of research, ongoing studies dependent on face-to-face patient engagement are in limbo as some clinics and smaller hospitals are closed. Studies that employ online or mobile based formats are continuing. Alia noted that they are seeing a growth in funding for studies on COVID-19, including its psychiatric, psychological, and cognitive impact. The UAE is also funding development of programs and hotlines to expand access to mental health services.  Most of the remaining centres have adopted telehealth options. In her own practice Alia is using a combination of telehealth and in person, with PPE  – clinicians and patients wear PPE throughout the evaluation and all surfaces and materials are disinfected before, during, and after the session.
April 8, 2020
In the United Arab Emirates, Dr. Alia Ammar noted, neuropsychologists may be worried about the validity of assessments if they deviate from standard practice, but of course interpretations are often having to take account of contextual information – she notes that in the US she used to have to take account of patients being distracted by helicopters landing at the adjacent trauma heliport, and since moving to the United Arab Emirates has to take account of the adhan, the Muslim call to prayer coming from loudspeakers at adjacent mosques.
June 5, 2020
Europe has been particularly hard hit by COVID-19. In the UK all face-to-face neuropsychology research remains suspended. Many of us are looking at options to take face to face research online/remote where possible. In relation to clinical work, there are clearly differing views amongst colleagues with regard to adopting tele-neuropsychology practice. Many have embraced this approach and are enthusiasts, with some suggesting that for some patients remote assessment brings significant benefits that means that they will continue with this form of practice in the post-COVID-19 era. Others remain sceptical. It's a fascinating debate.
In the UK there is considerable interest in looking at the cognitive burden of COVID-19, particularly for patients who have had severe forms of the illness and required sometimes lengthy stays in intensive care units. We are make good use of resources available via the INS COVID-19 SIG and eagerly watching the updates with regard to a potential consensus protocol for studies of cognitive outcomes from COVID-19.   This is also a focus for Alexandre Machado in Portugal who is leading a research study with COVID patients, called Neuro Scan COVID 19. They launched a platform for people that are now negative for COVID 19 to register and have already had 362 registrations, and hoping for more! Patients will be evaluated in August with a face to face one hour neuropsychological protocol.
April 8, 2020
In the United Kingdom, the British Psychological Society Division of Neuropsychology Professional Standards Unit is developing a set of guidelines for remote assessment, with particular discussion of the issues associated with the assessment of children, people with intellectual disability and older adults including those with dementia. Similar guidelines have been, or in the process of, being put together in other countries.

June 5, 2020
Beth Spitznagel and Omar Alhassoon reported from the US for us. Beth noted that in Ohio they remain in lockdown – though she noted it appears to be a rather loose form of lockdown! As in other places, neuropsychology research has largely been suspended with severe disruption to many studies. Similarly, clinical practice has equally been disrupted, though Beth noted that they were going to be returning to face to face work in the coming week, though this will involve masks, goggles and plexi-glass dividers. So its clinical practice Jim, but not as we know it!  Omar noted that the loosening of lockdown is a little slower in California than some other places, but things are gradually changing. He noted that there has also been a big push towards teleneuropsychology approaches, and again they are seeing some benefits for patients to have a range of options and can see that this will continue to be utilised post-COVID-19. However, use of teleneuropsychology can also highlight disparities in access to healthcare, given that not everyone has access to a smartphone or computer.
April 8, 2020
In the United States, Drs. Munro Cullum and Ken Podell participated in a webcast moderated by Drs. Yakeel Quiroz, Cady Block and Nick Puente. Dr. Michelle Prosje developed a video on mental health effects of COVID.
On April 2, 2020, INS hosted: "Teleneuropsychology (TeleNP) in Response to COVID-19: Practical Guidelines to Balancing Validity Concerns with Clinical Need," a presentation by Dr. Munro Cullum, Dr. Dustin Hammers, Dr. Lana Harder, and Dr. Rene Stolwyk. You can watch the replay of the live event here.